Hurricane Katrina continued page 5
This 'report' consists of 5 pages... click on p1, p2, p3, p4, p5 to see that page
This is our story of what happened before during and after Hurricane Katrina hit New Orleans and the nearby gulf coast on the 29th of August 2005.
The flight is uneventful... a bit rocky in the middle of the night. Perhaps the remnants of Katrina that may be over the Atlantic by now.
We land in Zurich after the nine hour flight.
and we drive to Bern to see Uncle Hans ...cappuccino in a cafe in the Matte area of Bern.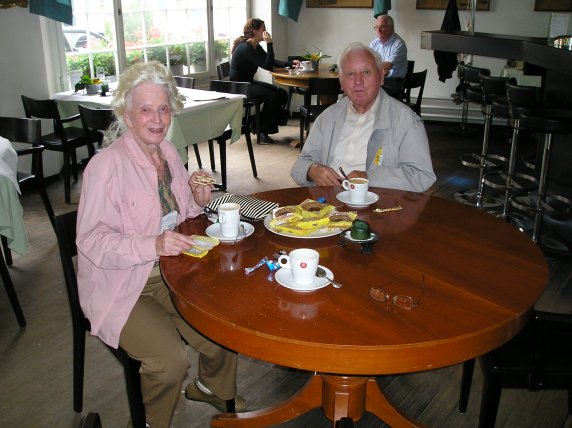 The Matte is an area my Mom and her family lived in some 80 years ago. It was also flooded some three weeks ago, hence the sandbags in the above photo.
It seems like its been a very long but rewarding week. At last, my Mom, is in her newly made up room that Carol prepared while I was gone:
A picture during lunch on our terrace on the 14th of Sept 2005.
Mom and Flopsy:
And finally: telephone news from David in Carriere on 13 Sept 2005: he is at Sue's and Willy's since he still has no phone service or electricity:
The generator has been working for 2 days now providing power to the fridge and some lights. The chainsaw was useful in clearing the trees and large bushes in front of their house. He and Connie can 'breathe' again and the see the light at the end of tunnel. Though it will be many more months before they get back to normal.
For the people who suffered flooding in New Orleans it may be years away.
But I know they will rebuild and New Orleans will be a great place again. I can't wait to go back.
To all my friends and relatives and my Mom's friends : thanks so much for your encouragement and support
To Marian: thank you ever so much for everything
To my customers: thanks for your patience and support during my absence
Lastly, if you wish to help: please contribute to one of the many organizations which are collecting funds to help the victims of hurricane Katrina.
This 'report' consists of 5 pages... click on p1, p2, p3, p4, p5 to see that page
Please help save my Mom's cats which are still in New Orleans.... click here
To see the EXTREME video click here (you will need windows media player)
click here to read Sept 21 news story on 'looters' from WWL TV web page... a must read!
to Katrina index page click here