Hurricane Katrina
This is our story of what happened before during and after Hurricane Katrina hit New Orleans and the nearby gulf coast on the 29th of August 2005.
This 'report' consists of 5 pages... this is page 1; click on p1, p2, p3, p4, p5 to see that page
HOT NEWS (17sept): 1st pix of houses in neighborhood click here
To start off, here's the track of hurricane Katrina as it began as a small storm east of the Florida coast, then headed west into the gulf and picked up steam...hurricane force winds are shown in red. 150MPH winds, 55 foot waves and a 25 foot storm surge are projected just before Katrina hits shore. In the evening of 28th of August it is about 200 miles south of New Orleans and traveling North at 20mph.
This is what the radar images show at 3AM local time on August 29th. The most dangerous area is the eye wall, which is about 50 miles in diameter.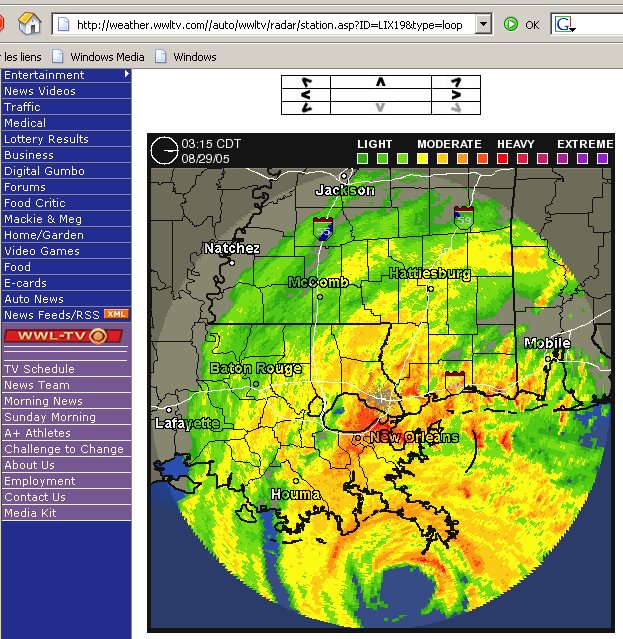 The projected flooding by LSU scientists helped many decide to flee the storm. Other articles, in Scientific American four years ago for example, forecasted similar scenarios in case of a category 5 hurricane strike on New Orleans.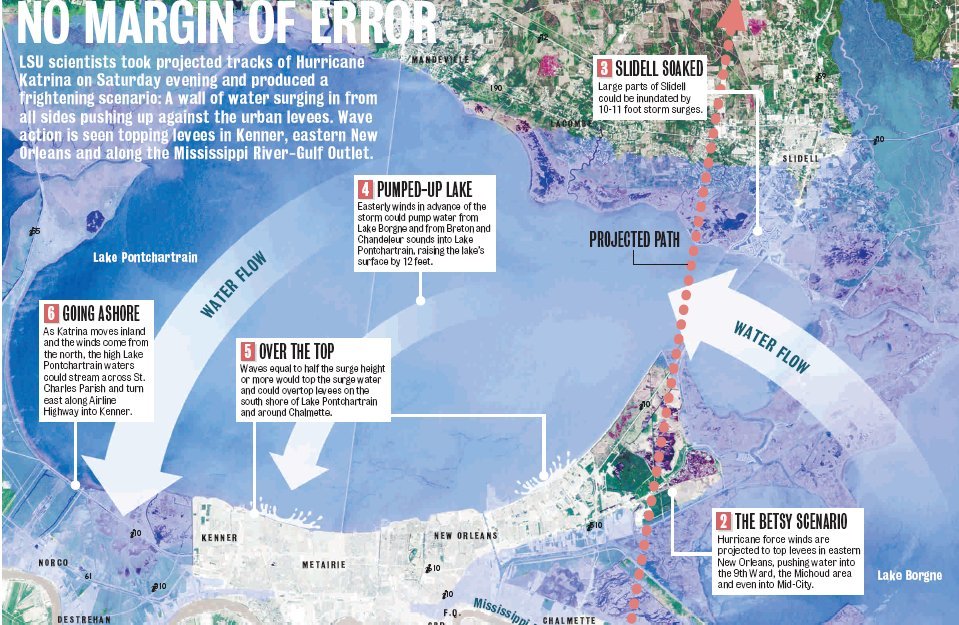 The evacuation drive from New Orleans to Carriere MS, via Slidell, took four hours instead of the usual one hour, even with all lanes of the interstate highway directing traffic away from New Orleans.
Power went out in our New Orleans east neighborhood around 6AM on Monday 29 August.
The news went from bad to worse as time went on.
This is a picture of a boat 'on a house' in Slidell.
(photos on this page are from various web sites)
And the destruction of the interstate bridge going from New Orleans to Slidell. One car did not make it.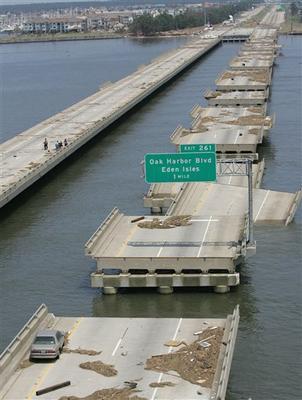 Shortly after Katrina hits, the feared levee breaches bring flood waters to New Orleans....
Vets highway known so well to all New Orleanians and some lucky fellow holding on to a pole.
And an airboat going down St Charles past some beautiful old houses.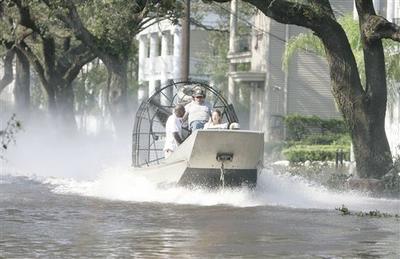 My friend Steve helps us find a satellite picture of our flooded street. Our neighbor has four cars pulled up on his front yard and driveway.
Others are less fortunate (but alive) with flood water and destruction...
Here are some links which provided much appreciated information:
Hurricane watch net http://www.hwn.org/home/atlantic.html
WWL TV New Orleans providing streaming video coverage http://www.wwltv.com
WDSU TV New Orleans providing streaming video coverage http://www.wdsu.com/index.html
And more sites provided by my friend Steve:
http://mapper.cctechnol.com this one is a zooming interactive map that shows the current water depth based on available measurements and extrapolated depth using LIDAR terrain data. http://www.cccarto.com/new_orleans/flood.html Cool slide map showing the time phases of the flooding.
Click here to go to page 2 ... Carriere MS after the storm.
extract from: Tropical Weather Summary http://www.nhc.noaa.gov/archive/2005/tws/MIATWSAT_aug.shtml?
ABNT30 KNHC 011140 TWSAT MONTHLY TROPICAL WEATHER SUMMARY NWS TPC/NATIONAL HURRICANE CENTER MIAMI FL 8 AM EDT THU SEPTEMBER 1 2005 THE MONTH OF AUGUST EXPERIENCED ABOVE AVERAGE TROPICAL CYCLONE ACTIVITY IN THE ATLANTIC BASIN...WITH THE DEVELOPMENT OF FIVE NAMED STORMS...OF WHICH TWO BECAME HURRICANES. THERE WERE ALSO TWO TROPICAL DEPRESSIONS THAT DID NOT REACH TROPICAL STORM STRENGTH. ON AVERAGE...2.8 STORMS AND 1.5 HURRICANES FORM DURING THE MONTH OF AUGUST. THUS FAR IN 2005...THERE HAVE BEEN 12 NAMED STORMS AND FOUR HURRICANES. THESE NUMBERS ARE WELL ABOVE THE LONG-TERM AVERAGES OF 4.4 STORMS AND 2.1 HURRICANES THAT WOULD NORMALLY HAVE FORMED BY THIS DATE.
KATRINA WILL LIKELY BE RECORDED AS THE WORST NATURAL DISASTER IN THE HISTORY OF THE UNITED STATES...PRODUCING CATASTROPHIC DAMAGE AND UNTOLD CASUALTIES IN THE NEW ORLEANS AREA AND ALONG THE MISSISSIPPI GULF COAST...AND ADDITIONAL CASUALTIES IN SOUTH FLORIDA. THE EXTENT OF THE PHYSICAL AND HUMAN DEVASTATION FROM THIS HURRICANE CANNOT YET BE ESTIMATED. THIS HORRIFIC STORM FORMED FROM A TROPICAL WAVE...BECOMING A DEPRESSION ABOUT 175 MILES SOUTHEAST OF NASSAU IN THE BAHAMAS ON 23 AUGUST. IT BECAME A TROPICAL STORM THE FOLLOWING DAY. KATRINA MOVED NORTHWESTWARD THROUGH THE BAHAMAS...AND THEN TURNED WESTWARD TOWARD SOUTH FLORIDA AND GRADUALLY STRENGTHENED. KATRINA BECAME A CATEGORY 1 HURRICANE AND MADE LANDFALL ON THE MIAMI-DADE/BROWARD COUNTY LINE DURING THE EVENING OF 25 AUGUST. KATRINA MOVED SOUTHWESTWARD ACROSS SOUTH FLORIDA...DUMPING OVER A FOOT OF RAIN...TOPPLING TREES AND POWER LINES AND DAMAGING HOMES AND BUSINESSES IN MIAMI-DADE AND BROWARD COUNTIES. KATRINA ALSO BROUGHT HEAVY RAINS AND SUSTAINED TROPICAL STORM FORCE WINDS TO PORTIONS OF THE FLORIDA KEYS. AFTER CROSSING SOUTH FLORIDA AND ENTERING THE GULF OF MEXICO...KATRINA BEGAN TO STRENGTHEN... REACHING CATEGORY 5 STRENGTH ON 28 AUGUST ABOUT 250 MILES SOUTH-SOUTHEAST OF THE MOUTH OF THE MISSISSIPPI RIVER. KATRINA'S WINDS REACHED THEIR PEAK INTENSITY OF 175 MPH WINDS AND THE PRESSURE FELL TO 902 MB...THE FOURTH LOWEST PRESSURE ON RECORD... LATER THAT DAY. KATRINA TURNED TO THE NORTHWEST AND THEN NORTH...MAKING LANDFALL IN PLAQUEMINES PARISH LOUISIANA JUST SOUTH OF BURAS WITH 140 MPH WINDS...CATEGORY 4...AT 610 AM CDT ON 29 AUGUST. CONTINUING NORTHWARD...KATRINA MADE A SECOND LANDFALL NEAR THE LOUISIANA/MISSISSIPPI BORDER AT 1000 AM CDT...WITH MAXIMUM WINDS OF NEAR 125 MPH...CATEGORY 3. KATRINA WEAKENED AS IT MOVED INLAND TO THE NORTH-NORTHEAST BUT WAS STILL A HURRICANE 100 MILES INLAND NEAR LAUREL MISSISSIPPI. KATRINA CONTINUED TO WEAKEN AND BECAME A TROPICAL DEPRESSION NEAR CLARKSVILLE TENNESSEE ON 30 AUGUST. AT MONTH'S END...THE REMNANTS OF KATRINA WERE RACING EAST-NORTHEASTWARD NEAR BINGHAMTON NEW YORK
This 'report' consists of 5 pages... this is page 1; click on p1, p2, p3, p4, p5 to see that page