Hurricane Katrina continued page 4
This 'report' consists of 5 pages... click on p1, p2, p3, p4, p5 to see that page
This is our story of what happened before during and after Hurricane Katrina hit New Orleans and the nearby gulf coast on the 29th of August 2005.
At last some good news: the swiss consulate provides a one year temporary passport within 1 hour (and free of charge) .... what a nice gesture and superb service.
Getting medicine is fine for the bottled pills with details marked on the bottles at CVS. However the eye drops are almost impossible to obtain at this drugstore. Fortunately we meet a very nice young lady at a Walgreens pharmacy who is also a Katrina refugee from New Orleans and who immediately locates the hospital and doctor in the Walgreen database and gets my Mom the needed eye medicine. Thank you Walgreen and Keira (I think that was her name)!
Getting a plane ticket in business class (as my Mom has a bad back and can no longer travel in coach) is more difficult. But Delta finally makes a nice gesture to hurricane victims (after a 1 hour phone call) and provides my Dad the discounted business class fare.
During some spare moments I manage to install Marian's wifi and 'almost installed' the dreaded wifi DSC-950G cam with, as some bloggers put it, pretty bad (V1) software (someone once told me to never buy V1 software of anything... oh well).
That evening Dad invites us all for dinner at PF Chang...very nice.
Wow, what lips:
Next day, next stop: the federal building for a US passport. After a one hour wait we obtain a mail-in form for a new passport. The form is filled out and sent.
Lunch at Madeleine's just like in New Orleans: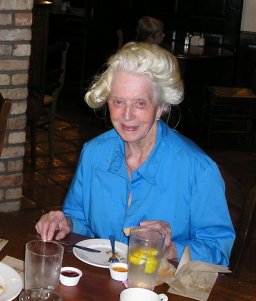 And our last BBQ salmon and artichoke dinner on the terrace.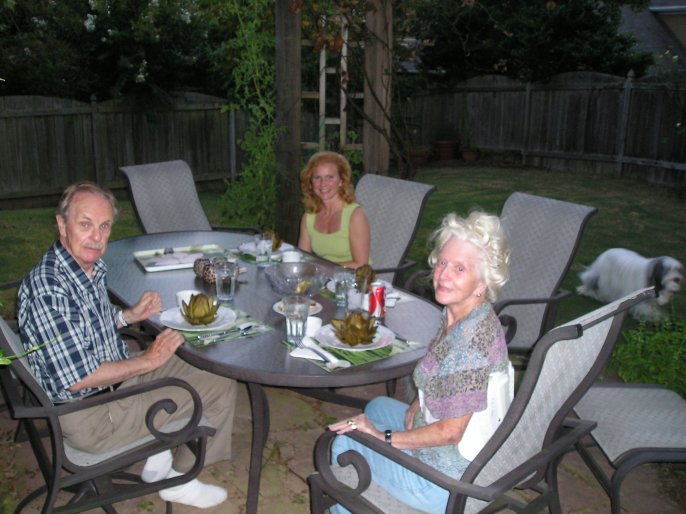 Some more attempts to fix the wifi cam, without luck.
The day of departure arrives... its been a busy week.
Delta 66 departs 5:30PM and we are at the airport before 3PM. It is hard to find a wheel chair for my Mom, but in the end we find one. Unfortunately a 'glitch' prevents us from getting a boarding pass. We wait another hour. My Mom is in tears. Finally Delta sends us through security with an escort. Again, all very nice and helpful people. After another 30 minutes we arrive at the gate 'just in time'. The boarding passes are ready at last. We board. Relaxed.
This 'report' consists of 5 pages... click on p1, p2, p3, p4, p5 to see that page