Hurricane Katrina continued page 2
This 'report' consists of 5 pages... click on p1, p2, p3, p4, p5 to see that page
This is our story of what happened before during and after Hurricane Katrina hit New Orleans and the nearby gulf coast on the 29th of August 2005.
My Mom and Dad stayed with Connie and David in Carriere MS. Winds were awesome during the early morning of August 29th. The eye passed just over them around midday. This is what they found the day after, looking from the back porch of the house.
And this is what the road (Toxie Spence Road) looked like: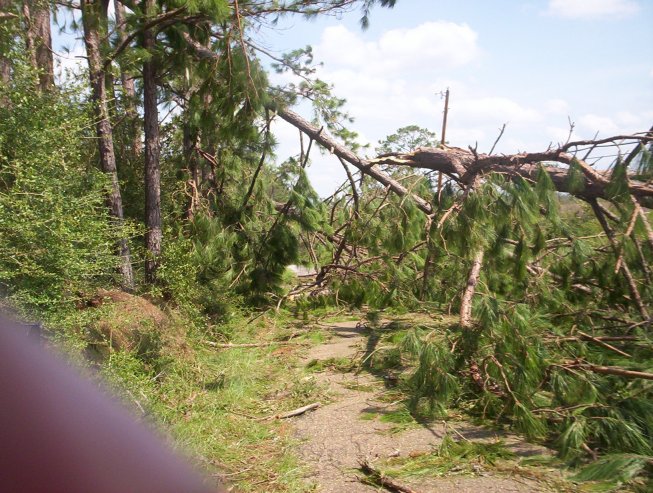 For three days and three nights: NO NEWS. No water, no electricity, little food.
The third day, Dad decides to leave on a re-supply mission. His car breaks down 100mi north in Jackson. He rents a car, has to wait another day to get more gas and supplies. Then drives back down.
On the same day my Mom and Connie and David drive 15 miles to Sue and Willie who finally have phone service again and are running off a generator. She calls me. I'm so glad to hear her voice. She is alive and OK. I decide to fly to Atlanta to help out.
on to page 3 : the rescue mission
This 'report' consists of 5 pages... click on p1, p2, p3, p4, p5 to see that page