Hurricane Katrina continued page 3
This 'report' consists of 5 pages... click on p1, p2, p3, p4, p5 to see that page
This is our story of what happened before during and after Hurricane Katrina hit New Orleans and the nearby gulf coast on the 29th of August 2005.
Marian, who lives in Atlanta, generously offered her help to bring my Mom to Geneva. So I decide to fly to Atlanta to organize the trip. Then I met Mom and Dad near the Atlanta airport after they managed to drive the 450 miles in a rent-a-car over two days. Below is a picture of my Mom and Dad just as they arrived at Marian's house. They left New Orleans with almost nothing, thinking they would be able to go back after two days.
Sept 6: We have a chicken BBQ dinner on Marian's nice terrace. Leftovers get made into chicken Tetrazini (for 3 days!).
After listening to the situation of Connie and David in Carriere MS I decide to drive down the next day to Carriere to help them out.
They will need a generator, chainsaw, circular saw, food, water, gasoline, oil and other equipment and supplies. Marian and my Mom kindly agree to help pay for the food.
Here are some of the supplies, before they are loaded onto the car, for my 6:30 am departure.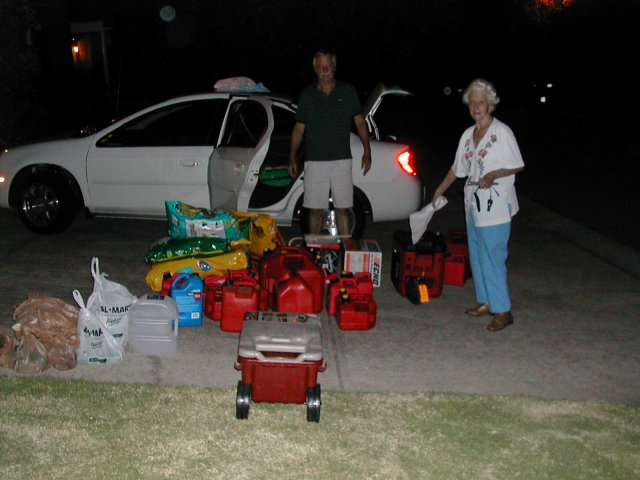 Food, water, 33 gallons of gas (plus 12 gals in the gas tank), oil, generator, chainsaw, battery, etc.... the passenger seat, the back seats, the trunk is full: almost 1/2 ton of stuff.
Nice drive heading west on I20, listening to folk and rock music on the radio. Lots of people in the parking lots of malls collecting goods and money for the hurricane relief. Nice. As I drive down on Interstate 59 I see army convoys being passed by 'rolling' houses (doing 80mph) ...there are hundreds of such houses being towed to the coastal area. Good to see such help is on its way.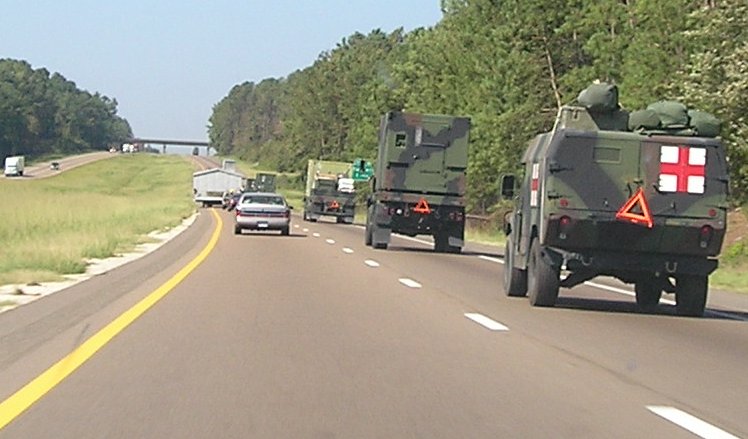 I start seeing the levels of destruction on I59 already 150 miles north of the coast: Note the snapped pine trees. And the splattered 'love-bugs' on the wind-shield ... I remember these bugs all over New Orleans when I was kid.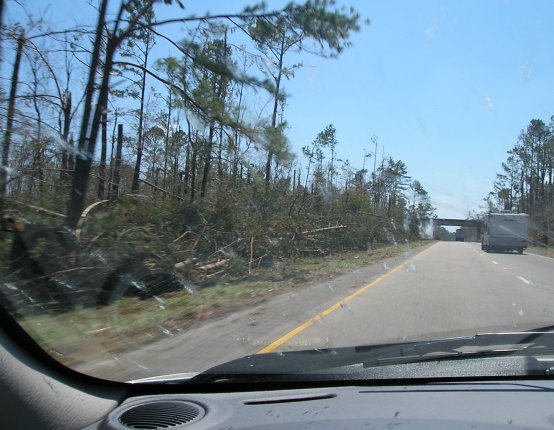 When I exit I 59 and drive onto Toxie Spence Road at around 2PM the destruction is unbelievable: pine trees snapped like match sticks. The northern and eastern eye wall made most of the damage (trees fell westward)... one tree leans east as the eye wall passed over and the (somewhat reduced) winds came from the southwest.
David's and Connie's 'farm' looks OK from the gate: horses and animals are fine.
But a closer look near the house, reveals uprooted bushes, trees and the horse shed torn to bits. This is what sustained hurricane winds will do.
Poor Connie breaks down.
Thank goodness the house suffered 'minor' damage , and all managed to survive. As they said: it was like living during the pioneering days. No water, no electricity, no phones, no gas. For days. With no help in sight.
Here is Bianco, one of my Mom's seven 'Katrina refugee' cats at Connie's.
After unloading the food, gas and equipment, starting and testing the generator and chainsaw, I leave at about 6PM. No food or hotel for 150 miles north of Carriere. I find a motel at 10PM after being 800 miles (and 12 hours) on the road.
Next step: get a passport , medicine and a plane ticket for my Mom in Atlanta.
This 'report' consists of 5 pages... click on p1, p2, p3, p4, p5 to see that page