Africa
Carol and Marc's trip to Namibia, Botswana and Zambia in May 2010
We arrive at the Amani lodge after 20 hours of travel from home via Frankfurt, Joburg and Windhoek, Namibia.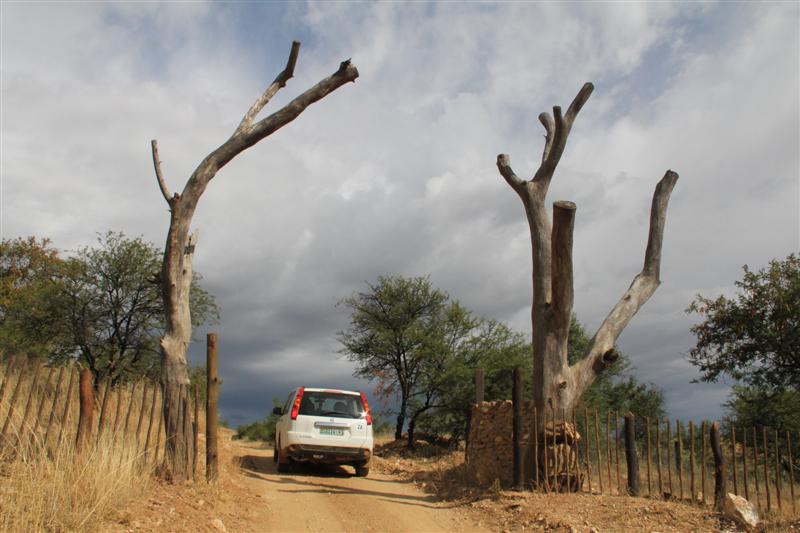 Note the typical wood structure and thick thatch roof common to all the lodges we will visit.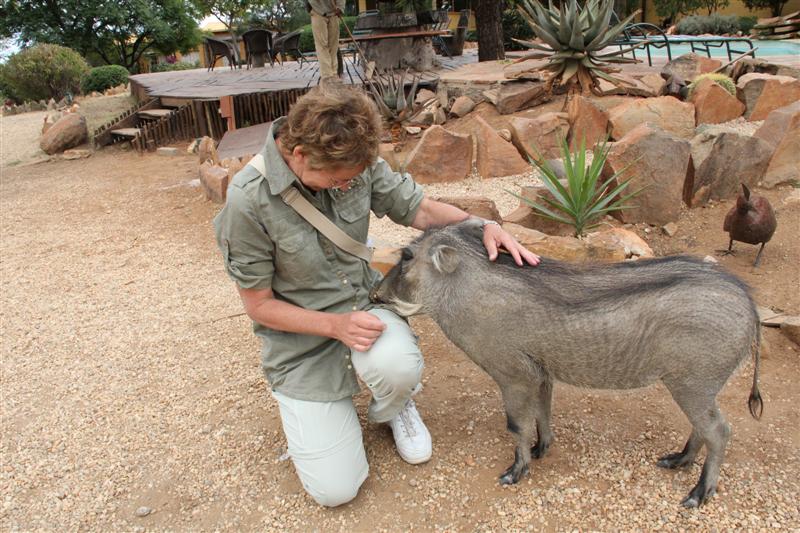 Next day after saying good bye to the friendly wart-hog we drive 330 Km south to
Sesriem on gravel roads (max speed 100Kmh) ... going over passes 2100m high
and magnificent landscapes.
This is the top of the Spreetshoogte pass overlooking the namib desert.
We arrive at Kulala lodge near the world's biggest sand dunes and amidst
many wild animals like Oryx, Sprinbok, Ostrich and incredible scenery.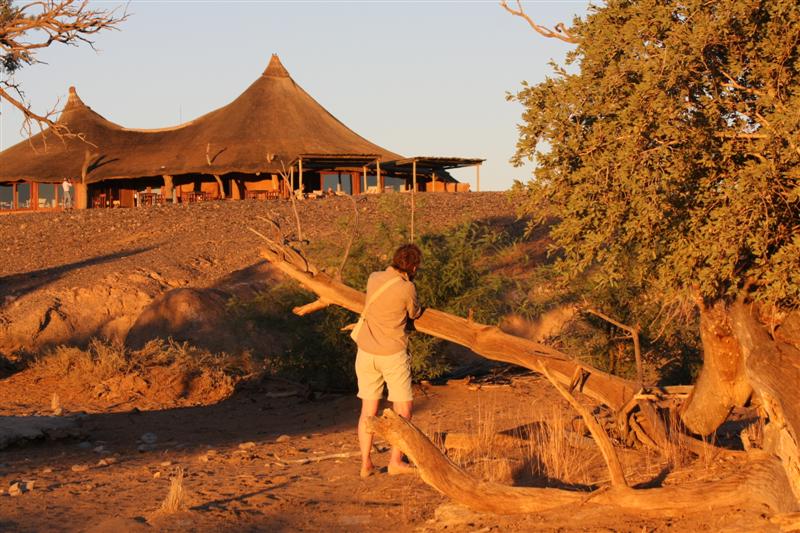 At sunrise we climb Dune45....
and visit the Dead Vlei at Sosussvlei and the 300m high 'big Daddy dune'
Tea time with Joost and Magreet and family

Preparing Kulala coffee ... (in other places called Irish coffee) note the resemblance of the 'marmite de l'escalade' of Geneva

Trying to film ostriches in the desert ...
After two nights at Kulala we drive 350Km north-east, across the desert,
to WalvisBay and Swakopmund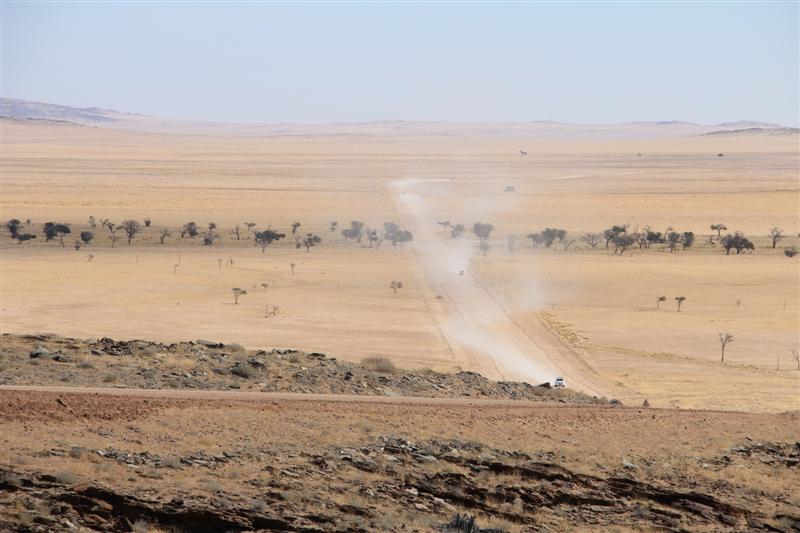 to a very nice BandB
Fun for the surf-dudes, thanks to Wayne and his Namibian ski-lift of duneseven.com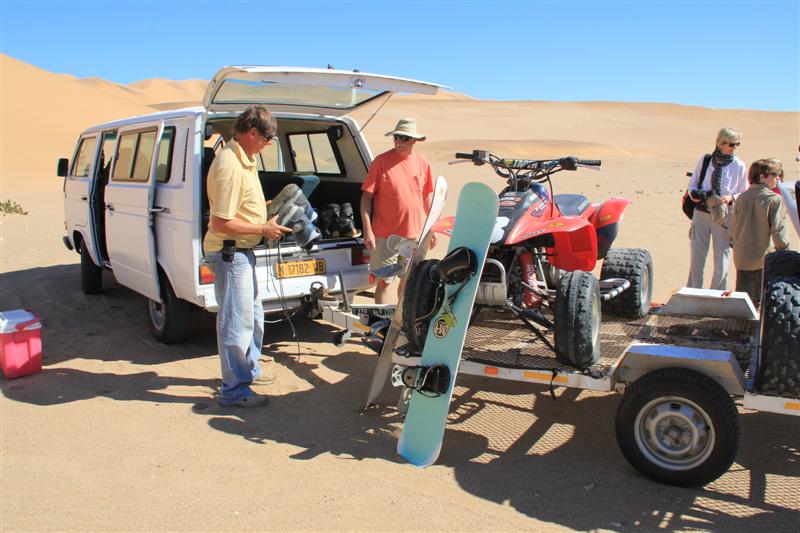 Probably the only place on earth where you have dunes with a 34 degree slope
which are long enough to sand-board on.
And fabulous scenery from above thanks to a flight arranged with Andy at Bush Bird.
Note the wave, star and parabola shaped dunes, depending on prevailing winds.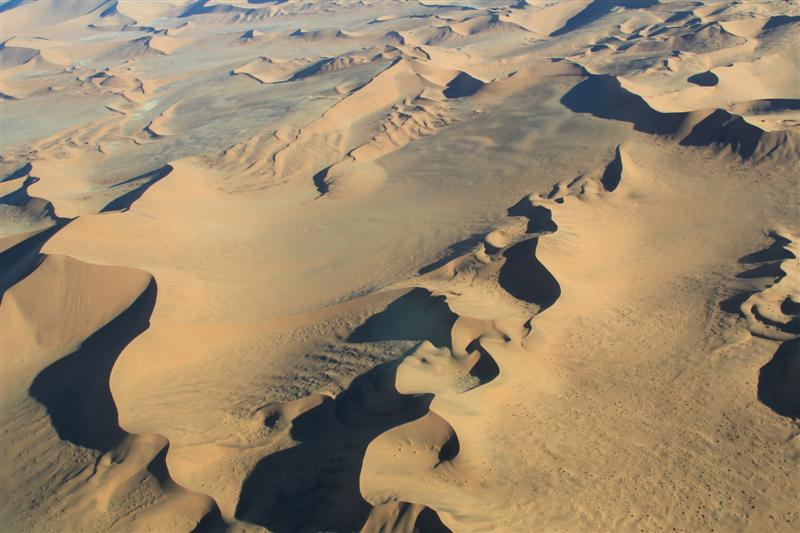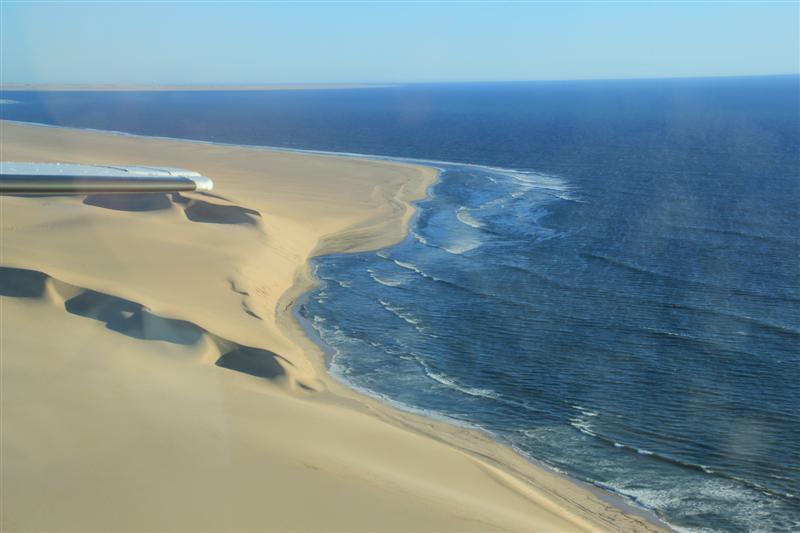 After two wonderful nights and excellent dinners (including Oryx schnitzel) in Swakopmund
we drive north along the coast and oops... Luckily two nice south african fishermen
and their 4x4 help get us out of the sand and away from the cold Atlantic.
Good tip from them: let out 50% of the tire pressure when stuck in sand (or before you get stuck), and then find a service station to re-inflate the tires when going back onto paved or gravel roads... or better yet, bring a pump with you.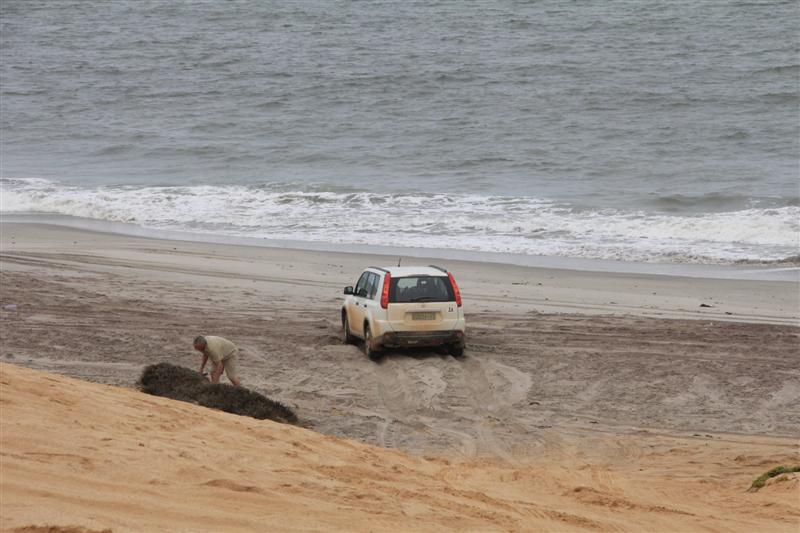 Now we drive inland on very long and very straight roads and looking back we see the ocean fog far away...
This is what can happen if you get too distracted...
After three hours of crossing the desert this sign says it all : watch out for beasts eg elephant, zebra, giraffe, etc
We are now in Damaraland and arrive at the Doro Nawas lodge
Sleeping 'under the stars' at Doro Nawas ...thanks to a roll-out bed. How cool is that?
We also visit Zwyfelfontein to view the ancient rock engravings of the San bush people...
Then a short 90Km hop to Palmwag where they pick us up for the 36Km
and 3 hour ride to the Desert Rhino Camp .
We see the wild black Rhino the next day after a 4 hour game drive. And the mountain Zebra with the white belly.
Sundowner with our favorite guide Rosy
After two days at Desert Rhino we drive south 330Km to the great Africats Lodge
Incredible sundowner with a GandT overlooking the 30km x 30km game park
after seeing cheetah and leopard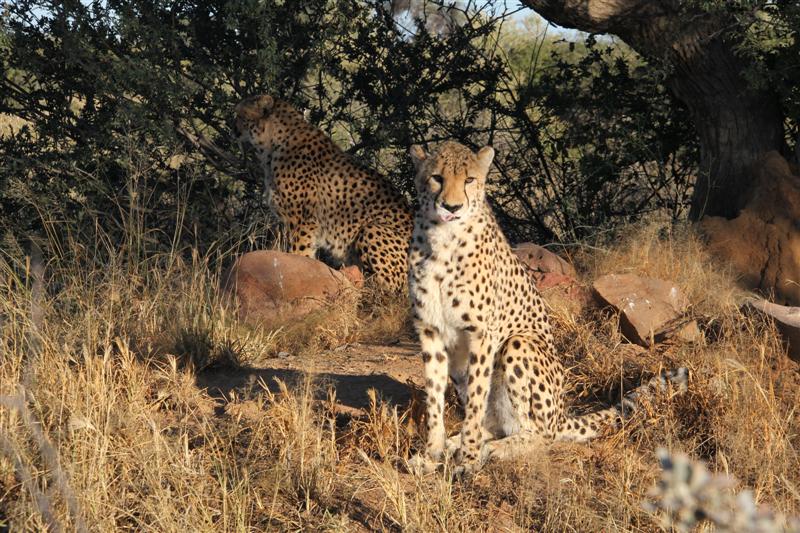 Our lodge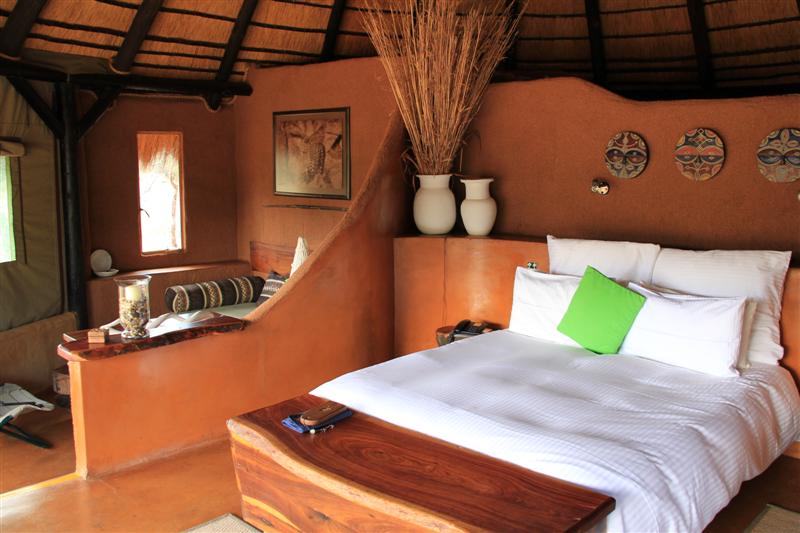 An Oryx is just outside our lodge entrance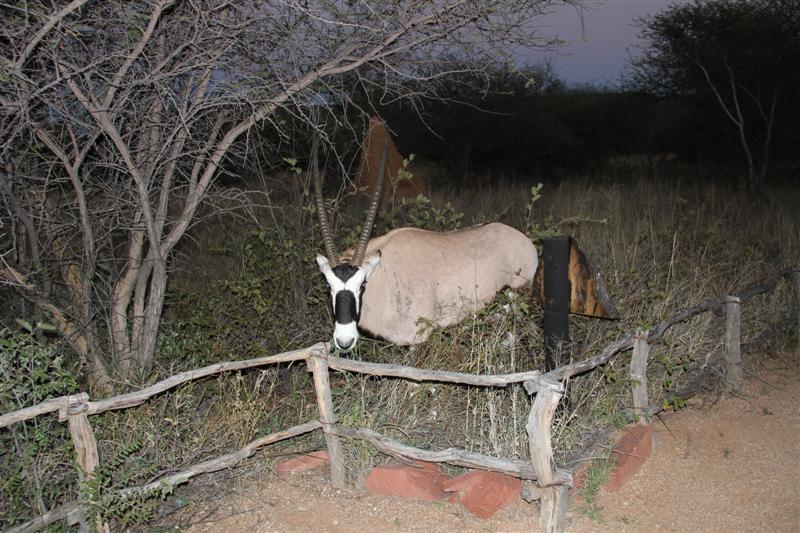 After driving back to Windhoek we fly from there to Maun (about 1 hour) and another 30 minutes to Shindi lodge in the Okavango delta (worlds largest inland river delta)... this is the airstrip. Pilots must watch out for elephant, giraffe and baboons.
We see our first lions, crocs and enjoy some more nice sundowners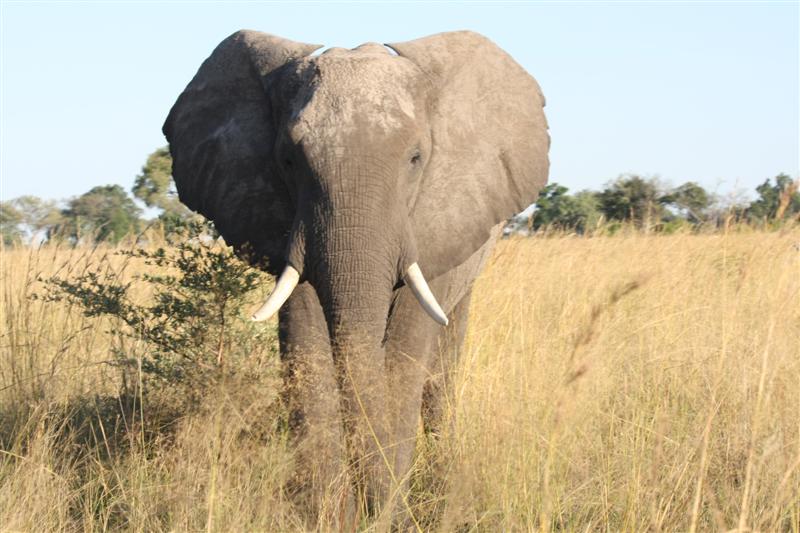 This is not a boat but the LandRover which can go through 1 meter of water when needed.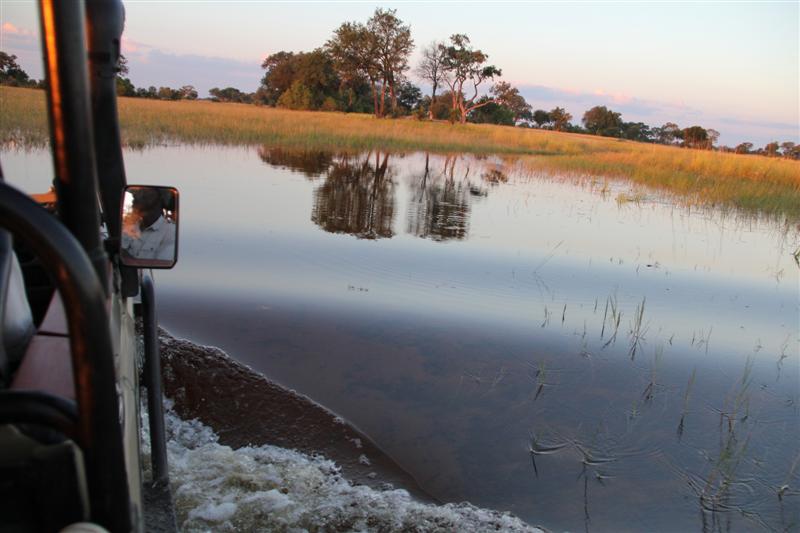 Sometimes a dugout cannoe or a Makorro is best suited for the deeper waters of the marsh...
After two nights we fly 10 minutes (via bush pilot) to the very nice Okuti Lodge
and more amazing wildlife...
The african fish eagle.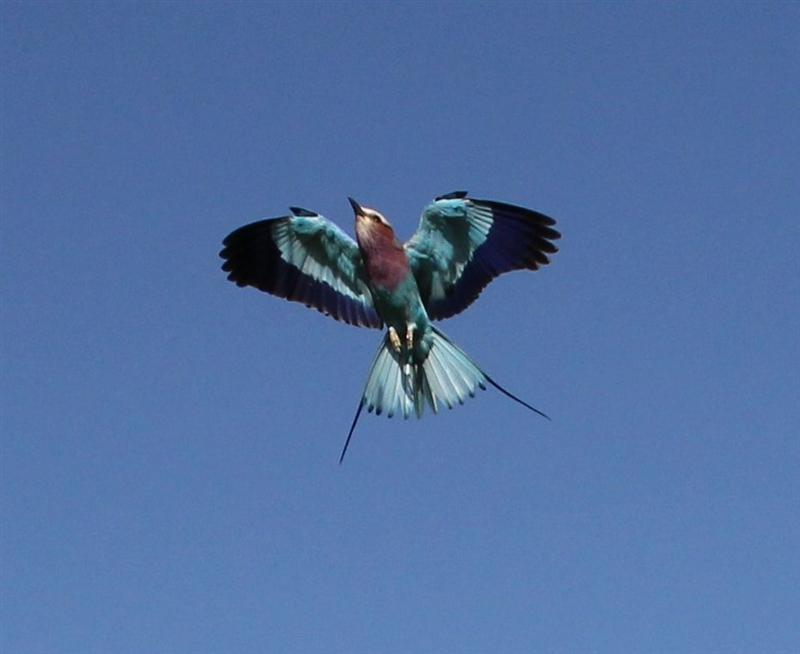 Yellow-billed Hornbill or the flying banana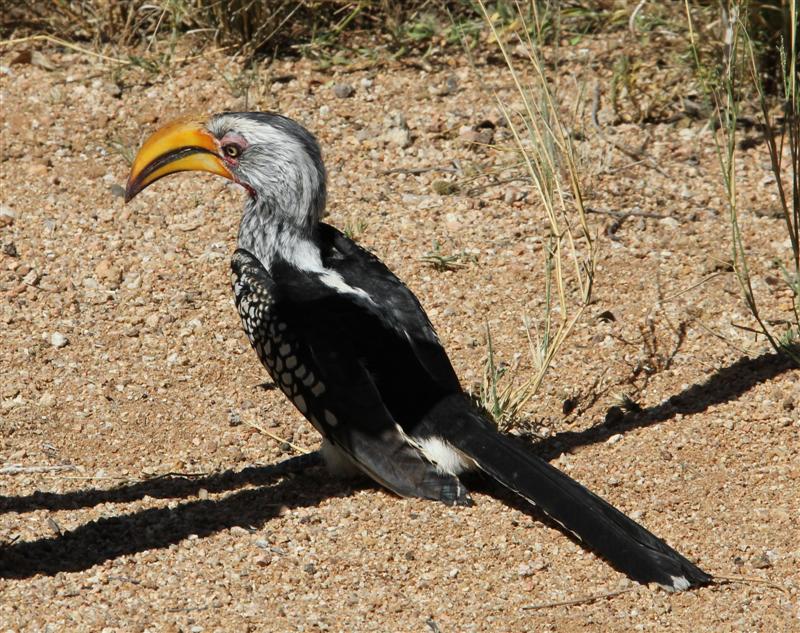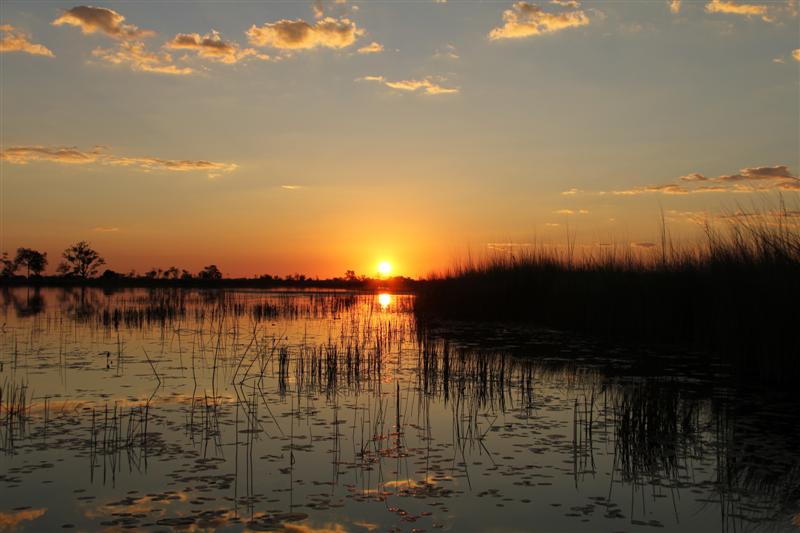 The plains zebra ... note the different colored stripes compared to the mountain zebra.
The african buffalo. Definitely do not get close to these beasts.
The leopard, like the lion simply ignores people in their Land-Rovers and goes on hunting or roaming.
After two days we fly north for 60 minutes with a very agile bush pilot
who avoids a crazy ostrich on the 'runway'...
and arrive at the incredible Chobe park area, home of one of the worlds largest wild elephant herds
We see lions, crocs, elephants, hippos and many other animals.
This is a Baobob tree overlooking the Chobe river flood plains. Largest flooding in 26 years.
Lion on the hunt. But giraffes, kudus and baboons have already seen or smelled the predator and let her know it.
During the day hundreds and hundreds of elephants go from the bush to the chobe river for a drink.
Hippos and crocs are everywhere.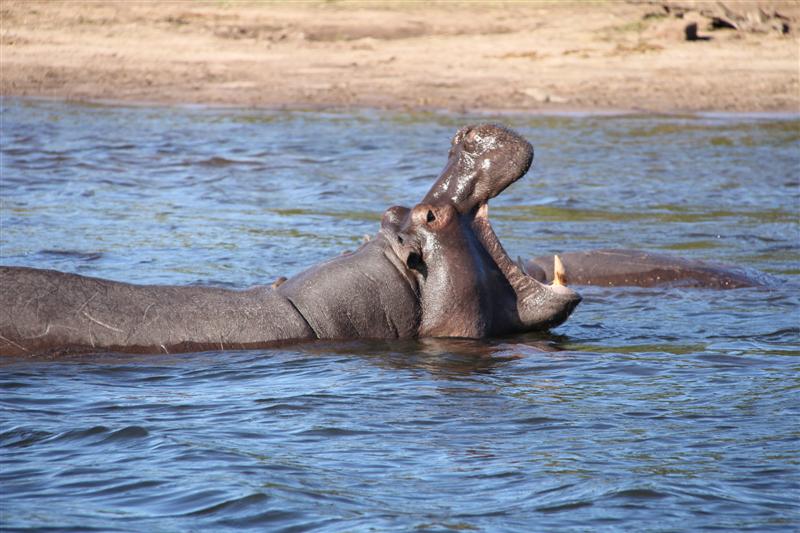 We even see a giant lizard 2 meters long and a small chameleon.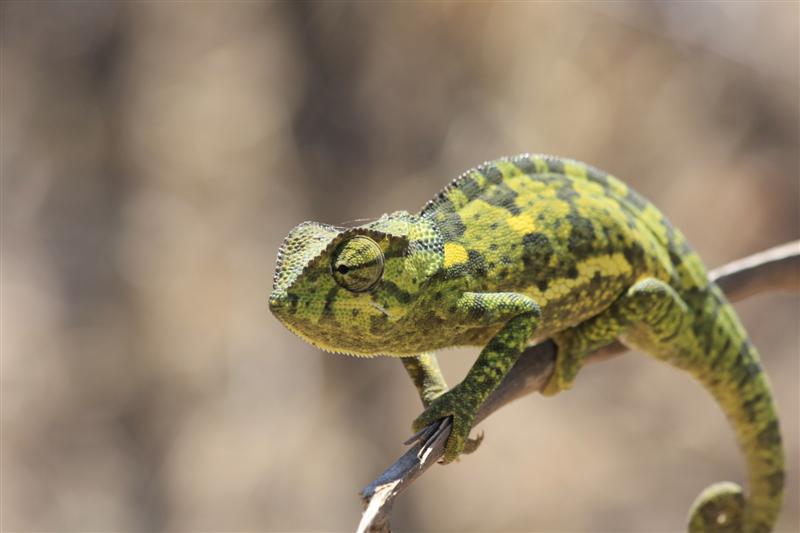 Last sundowner at our Muchenje Lodge in Botswana
Next day we start on our incredible journey via Land-rover, boat (to cross the croc
infested Zambesi river) and more Land-rover to reach Vic Falls in Zambia after 2 hours.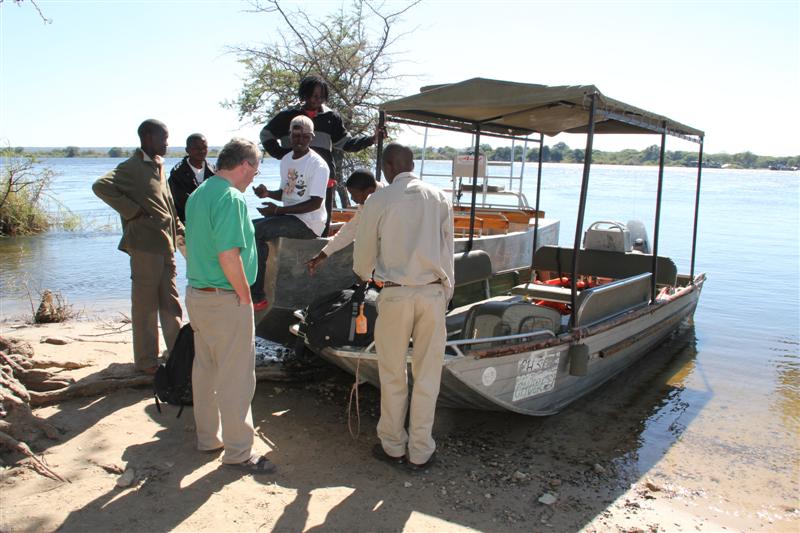 And the amazing Stanley lodge
and the even more amazing Vic Falls. Ten million 10 liters per second going over the 1 mile wide ledge.
NB Twice the water flow and twice as high as Niagra Falls.
and the view of the Zambesi river and Vic Falls from our chopper ride.... Zimbabwe is on the left and Zambia on the right side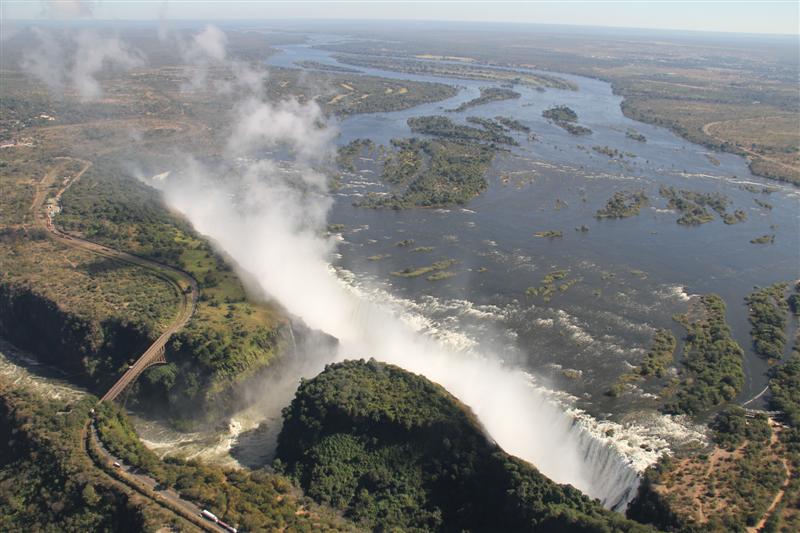 we even set foot in Zimbabwe on that 100+ year old bridge built by Cecil Rhodes who wanted to link Cape Town to Cairo by rail and bridges
and view from the jacuz side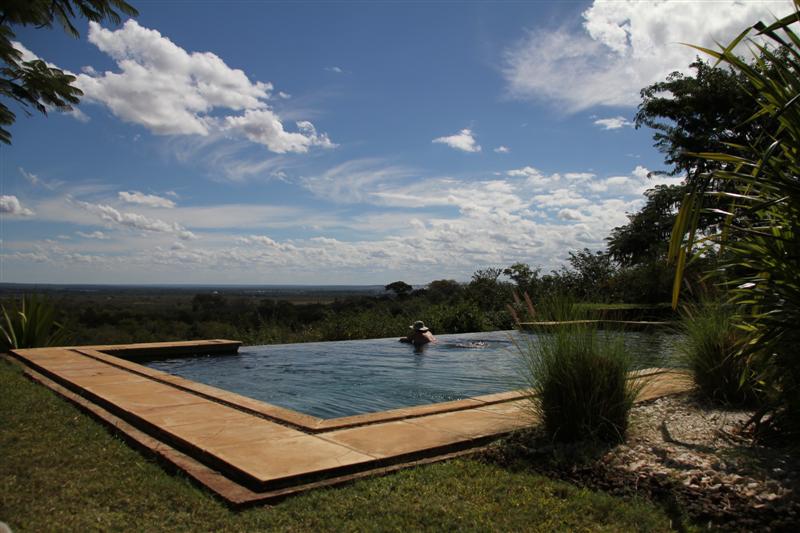 Our lunch table in the garden.
with the final sundowner before heading home the next day.
..and an unforgettable 'Carol-100 year' celebration:
40th anniversary + 60th birthday.
Great game, great places, great food and very nice people everywhere
Many more pix on Carol's flickr page
Click below to view or download WMV videos approx 10MB to 60MB each (originals are full HD 1080p videos made with Canon 550D and GoPro HD head cam):
WartHog and road from Amani to Kulala
walk the Knife-edge bridge at Vic Falls
Vic Falls and Canyon Helicopter Ride
Click below for more information on the places we visited:
Coordinates and altitude
Windhoek S 22.55132 E 17.09165 ,altitude: 1696m
Walvis Bay Coordinates: 22 57'22 S 14 30'29 E altitude: 10m
Sesriem Latitude: -24.4871, Longitude: 15.7983 altitude: 860m
Doro Nawas Lat: 20.7561 S Long: 14.0405 E. altitude: 1300m
Maun, Botswana Lat: -19.9833333 Long: 23.4166667 altitude: 922m
Kasane, Botswana. lat: 17 49 S, long: 025 09 E, altitude: 968 m
Livingstone, Zambia Lat -17.85 , Long 25.8667 altitude: 897 m
Currency used (each of these bills is worth about 1euro except
the one hundred trillion Zimbabwean dollar note which is worth less than one euro)
Picture Information
Camera: Canon 40D and Canon 550D
Lens: 17-200mm and 70-300mm
All pix are un-edited (Aperture, ISO, speed, focal length and other information are embedded in the exif of the JPG)
Web based Maps (combines GoogleMaps with a Wiki system)
Our itinirary: yellow: intercontinental flight to/from Joburg
red: by rental-car (2000Km)
green-blue: local flights to Windhoek to Maun and to Kasane then Livingston to Joburg
Thanks
to the people who organized this incredible trip : Tigre Vanille www.vanillatiger.ch
and the people who built and run the lodges:
www.wilderness-safaris.com ..... lodges: kulala, desert rhino, doro nawas
www.kerdowney.com ................lodges: shinde, okuti, muchenje, stanley
And the special thanks to JJ at Muchenje for shipping our forgotten point and shoot camera from muchenje to stanley in just 2 days.